Digital Marketing
Australia's Digital Marketing Strategy 2021
Australia is among the largest countries in the world and whose economy continues to progress over time. Australia is ranked as a highly developed country, and it boasts of the 14th largest economy in the world. It ranks highly when it comes to economic freedom, and the digital aspect of business in this country continues to show promising results. Businesses in this country are spending a lot of money on a digital marketing strategy that will increase their return over time. With the boom in e-commerce and the adoption of smart technologies, the businesses here are continuously under pressure to maintain a competitive edge.
The digital space in Australia presents an opportunity for small and large businesses to foster tremendous growth. As of the first quarter of 2019, the number of internet users in the country grew by 1%, with a penetration rate of around 88%. The only way a business can create a space for itself in this dynamic and rapidly growing digital world is by seeking expert services from a digital marketing agency in Australia. Virtuoso Netsoft (VNS) is a reliable digital marketing agency in Australia that will formulate the best digital marketing strategy that will boost your business.
How Digital Marketing Works
With a huge influx of internet users in Australia, many enterprises may find it hard to achieve optimal penetration and promote their brand in an ever-growing online market. This is why a proven digital marketing strategy is crucial in helping you connect with the online audience that resonates with your brand, product, or service. To generate leads and increase conversion rates from your online audience, Virtuoso Netsoft recommends that you do not need to communicate to the entire online population but rather to a section of the audience that shows interest in what you are offering and using relevant digital channels.
At VNS, we use proven strategies to reach your target audience, and this ensures that you maintain a competitive edge in the industry. With a strong digital marketing strategy, Virtuoso will help you to succeed even when you are in a service industry with a lot of competition. The digital marketing strategy that is most effective is one that understands your business models and objectives. This way, a digital marketing agency will know the best channels that can be used to achieve the set objectives. However, when it comes to formulating an effective and reliable digital marketing strategy, there is no fixed formula that can be relied upon. Because of the dynamic in this sector, you will need a personalized formula and one that can easily be changed with the changes that are happening in the online market.
The most common digital marketing trends in Australia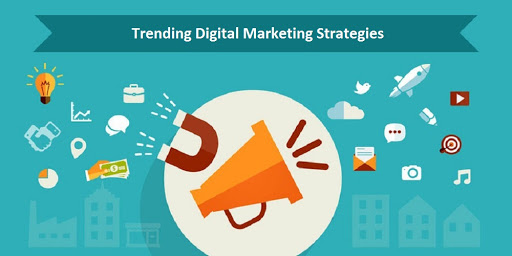 Digital marketing is a very crucial process. Going to a digital marketing agency in Australia does not necessarily guarantee that you will walk out with a viable solution. You should take time to analyze your business, its needs, its customers, and the most relevant channels so that you can come up with the best strategy that will create the highest ROI. Whereas each business needs a unique digital marketing strategy, below are some of the most common trends you may want to consider for your business in Australia.
Search Engine Optimization (SEO)
This is the most common digital marketing strategy, and the best thing is that it applies to every business that wants to increase their online presence and drive traffic to their website. This powerful tool will ensure that potential customers can find you on the search engine when they are looking for a product or a service that you may be offering. One of the ways that Virtuoso Netsoft can optimize the SEO for your website is by using keywords in a competitive manner. Extensive keyword research will help formulate the best keywords that will make your business appear whenever a potential customer searches for a product or service that you are offering. The team at VNS can rank your website highly on the search engine through competitive keywords.
This is also another popular and powerful digital marketing strategy from Virtuoso. Even though content marketing is a broad concept, it is complex when it comes to an understanding of how it can help your business. There is a wide range of content used by businesses in Australia, including blogs, landing pages, press releases, white papers, etc. Virtuoso uses the right resources and energy to only work on the content streams that are suitable for your business. With content marketing developed by VNS, you will have a platform where you can directly communicate with your potential clients and also sell your brand to a larger audience. The best thing about content marketing is that it is easily customizable to your business needs.
Social media marketing is possibly the most powerful digital marketing tool in Australia. More than 80% of internet users in Australia have access to various social media platforms. In addition, 33% of these users always check the social media presence of a brand before they can make a purchase decision. Even though these statistics are impressive, it may still be difficult to know how you can turn social media ads into clicks and consecutively into sales. Social media marketing does not work solely on its own because you will have to pair it with other tools if you want to see credible results. Virtuoso Netsoft conducts social media marketing that will penetrate Australia's online market by encouraging customer engagement whenever they see ads related to your brand. This is achieved by improving user experience and incorporating content marketing.
A recent survey study of the consumer market in Australia revealed that 40% of internet users in the country are more likely to buy a product or service when they see an influencer posting about that brand. An influencer will increase engagement with your target audience and promote brand awareness. Influencer marketing is not just about finding the user with the most followers on social media. At Virtuoso Netsoft, we find an influencer that will best fit your brand image. Small businesses may avoid this form of digital marketing because of the costs involved. However, an influencer does not need to be a celebrity, but he or she can be a person with a reasonable following of your target demographic.
Pay-per-click (PPC) advertising
Another cost-effective and powerful digital marketing strategy for Australian businesses is pay-per-click advertising. This is a form of paid advertising where you do not necessarily have to pay for an ad but rather pay for every click you get from potential clients. PPC is a broad strategy because it can be used on search engines, social media platforms, and even specific apps. Virtuoso recommends this strategy for businesses that are just starting out with digital marketing because of its great results and low costs. Its turnover rates are high because it is estimated that 50% of the users who click on an ad are more likely to make a purchase from that brand.
Email marketing is also another cost-effective digital marketing strategy. This strategy is useful in retaining your existing customers as well as gaining new ones. Email marketing deals with informing audiences more about your product so that they can consider when they want to make a purchase decision. Email marketing is a great tool because it can be personalized. At VNS, we will segment your current and target audience, so create email campaigns that are more relatable with the user and thereby creating a higher rate of conversion.
The benefits of digital marketing
As technology evolves, it has made it impossible for businesses to ignore the huge impact that comes from adopting digital marketing strategies. With more and more clients in Australia seeking research about products online and even choosing online purchases over physical purchases, businesses need to create a niche for themselves in the online market. When you hire a digital marketing agency in Australia such as VNS, there are several benefits that you can be assured of accruing. These include:
1. A powerful form of marketing: Digital marketing is a more superior form of marketing in comparison to traditional forms of marketing. It will shape how you reach and engage with your existing and potential customers. With the most appropriate strategies from VNS, small and large businesses can increase their brand awareness and increase their conversion rates in a short time.
2. It is cost-effective: Digital marketing is one of the most effective ways that you can promote your brand, and this makes it the most ideal for small businesses in Australia. Digital marketing tactics, such as SEO, content marketing, and social media marketing, are highly affordable. PPC and social media advertising are recommended by Virtuoso because of the fast results, although you may have to adjust your budget on these slightly.
3. You can target your potential buyers: With digital marketing, you can control who sees your content or ads so that you only reach the audience that is more likely to buy your brand. This guarantees that you are not spending money blindly without reaching the audience that really needs your message. With sophisticated tactics for targeting developed by the team at Virtuoso, you will be focusing your resources on the best market for your brand.
4. Measurable: One of the disadvantages of traditional marketing is that you cannot measure its success or failure. However, with digital marketing strategies, you can use real-time analytics to measure the tactics that are working and the ones that are not working. This allows you to effectively use your business resources and allocate more budgets to the digital strategies that increase your ROI.
5. It helps reach your social media customers: The statistics have revealed that a majority of internet users in Australia have access to multiple social media platforms. With a digital marketing strategy created by Virtuoso Netsoft such as social media marketing that is well implemented, you can be assured of reaching this wide market and hence increasing brand awareness and also increasing your ROI.
6. It creates a connection with mobile customers: The traditional forms of marketing target users who are on televisions, radios, etc., and all these platforms have their limitations. However, with mobile devices, the limitations that are present are very limited. Most internet users use mobile devices, and by implementing mobile marketing as one of your digital marketing strategies, you will have access to a larger pool of potential customers.
7. Gives you a competitive edge: This is probably the greatest benefit you will receive from digital marketing. When competing in a large pool of businesses with more resources, you need to adopt a cost-effective strategy that will show quicker results. As a digital marketing agency in Australia, Virtuoso Netsoft allows small businesses to gain a competitive edge over the giants in the industry, and this gives the opportunity for growth to everyone.
8. It is easier and faster: Digital marketing, compared to other forms of traditional marketing, is easier and quicker to adopt. This is due to how the website analytics show you how well the tactic that you have implemented is working for your business. Digital marketing also creates real-time results that are realized faster.
In Summary
The Australian business market is demanding businesses to be flexible and adopt digital marketing in a bid to tap into the growing online market. The benefits that both small and large businesses can gain from an effective digital marketing strategy are endless. Virtuoso Netsoft (VNS) is a digital marketing agency in Australia that will evaluate your business needs to come with the most effective digital marketing solution that will help you meet your business goals. There are many trends in digital marketing, and even though each of these creates fast and real-time results, you will need to implement one that focuses on your target audience. It is very crucial to have a sound digital marketing tactic before you can start implementing it. VNS will develop a clear plan for implementation and measurement so that you can adopt the best strategy that you will use for your business.